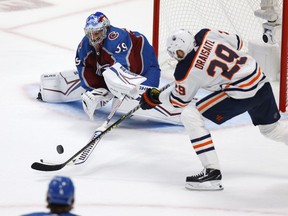 The ice is in. The lights are on. The first skates are tied.
Edmonton Journal Headline News
Sign up to receive daily headline news from the Edmonton Journal, a division of Postmedia Network Inc.
By clicking on the sign up button you consent to receive the above newsletter from Postmedia Network Inc. You may unsubscribe any time by clicking on the unsubscribe link at the bottom of our emails. Postmedia Network Inc. | 365 Bloor Street East, Toronto, Ontario, M4W 3L4 | 416-383-2300
Read about the Oilers final few roster tweaks before Rookie Camp kicks in, in this week's edition of…
9 Things
9. The Oilers have established an Edmonton Junior Oilers U18 AAA female hockey program. In co-operation with Hockey Edmonton, it will offer elite coaching and development. The Women's game continues to make strides.
8. Ryan McLeod is still not signed. He will be. In fact, he may already have a deal in principle and the Oilers are just waiting for the move that creates the requisite cap space for his deal. Remember, McLeod has no arbitration rights. So, do not be surprised if he ends up on a 1-year in the $800k range.
7. The Oilers added another D-man this week. We will get to that signing in a minute. But while that checked a number of subtle boxes for Ken Holland, what it still did not do was block Vincent Desharnais. The 26-year-old 6'7 rookie heads into camp remaining #4 on the Right-Shot Defenceman depth chart.
Article content
6. Dylan Holloway will wear #55 this season. The question is…where. It will take a great camp for Holloway to start with the Oilers this Fall. And as a winning organization, is that not exactly what you want? It will not be disincentive for a competitive young player. I think it will drive him even harder.
5. Sam Gagner signed on with the Winnipeg Jets earlier this week. No matter what sort of invitation may have been extended to him in Edmonton, at the end of the day Sam has a family. An NHL contract for real dollars will almost always be better than a PTO, even under the best circumstances. Good luck to him.
4. One of the early attendees at the Community Arena this past week was 2021 1st Round Draft Pick Xavier Bourgault. The highly skilled, right-shot Center is a longshot to make the opening night roster due to age and inexperience. But when you can already skate an at NHL level, opportunity often locks a little earlier than for some others.
Article content
3. But I do think that the Oilers will still bring another veteran forward into camp, a spot that Gagner was likely to have been occupied prior to the Jets offer. And it is most likely to be a right winger, the one spot on the roster that may not be as deep as most of the others. What I will add here, though, is that G.M. Ken Holland has a history of only offering PTOs to guys who could make the team. I keep hearing the name Evan Rodrigues. He would be that guy.
2. As if Leon Draisaitl had much more to prove after his amazing performance during last year's playoffs, there he was this week…one of the very first veterans on the ice, pre-training camp. I wrote a couple of weeks ago about the younger Oilers grabbing the reigns from the departed Duncan Keith and Mike Smith. This is, in part, what I meant. One of your best 2 players showing up with the raw rookies is leadership in my books. It is also great to see him moving so well.
Article content
1.Ryan Murray has signed a 1-year, $750,000 contract with the Oilers. Murray won't win a Norris Trophy in Edmonton. But he might win another Stanley Cup. How? Because when the veteran D-man with the fascinating connection to the Oilers in the past (here's looking at you, Nail Yakupov) signed this past week, it filled a smaller but critical role left vacant on the roster with the departure of veteran Kris Russell:
Ryan Murray is in many ways the classic NHL "7D", a very dependable veteran insurance policy just in case Philip Broberg isn't quite "there" yet. We all know about rookie D-men and their development paths. Yet Murray is also a D-man with 432 NHL games under his belt who could potentially step up and step in if Brett Kulak or Darnell Nurse happens to get nicked up along the way.