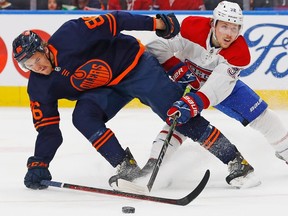 These are dangerous times for the Edmonton Oilers as the pressure and outcry for a major trade builds up.
The pot is boiling just about boiling over right now.
Edmonton Journal Headline News
Sign up to receive daily headline news from the Edmonton Journal, a division of Postmedia Network Inc.
By clicking on the sign up button you consent to receive the above newsletter from Postmedia Network Inc. You may unsubscribe any time by clicking on the unsubscribe link at the bottom of our emails or any newsletter. Postmedia Network Inc. | 365 Bloor Street East, Toronto, Ontario, M4W 3L4 | 416-383-2300
Oilers GM Ken Holland has some hard decision to make but sometimes the best trade is the deal you don't make.
Remember back in June 2016 when the Edmonton Oilers passed on a trade that would have seen Leon Draisaitl, Edmonton's fourth overall pick in the draft and either Oscar Klefbom or Darnell Nurse go to Montreal for P.K. Subban and the Habs later first round pick. There was a tremendous amount of enthusiasm in Edmonton for such a deal.
Instead the Oilers traded Taylor Hall for Adam Larsson, a trade that was widely criticized at the time but wasn't nearly so appallingly rancid as any Subban-Draisaitl deal would have been.
In 2018 and 2019 we also saw former GM Peter Chiarelli make trades that turned Jordan Eberle into Ryan Strome into Ryan Spooner.
Right now the big fish the Oilers are hunting is a Top 4 left shot d-man to do the job that Brett Kulak was signed to do this past summer. Kulak has so far struggled.
It's not Kulak, though, who would be moved out in such a trade, as his four year deal at $2.75 million looks like a considerable overpay just now. That could change. Kulak could again play at the high level he did in the 2022 playoffs, which earned him his pay day. But right now he's not going to be a piece in a deal that would bring in a Top 4 left shot d-man.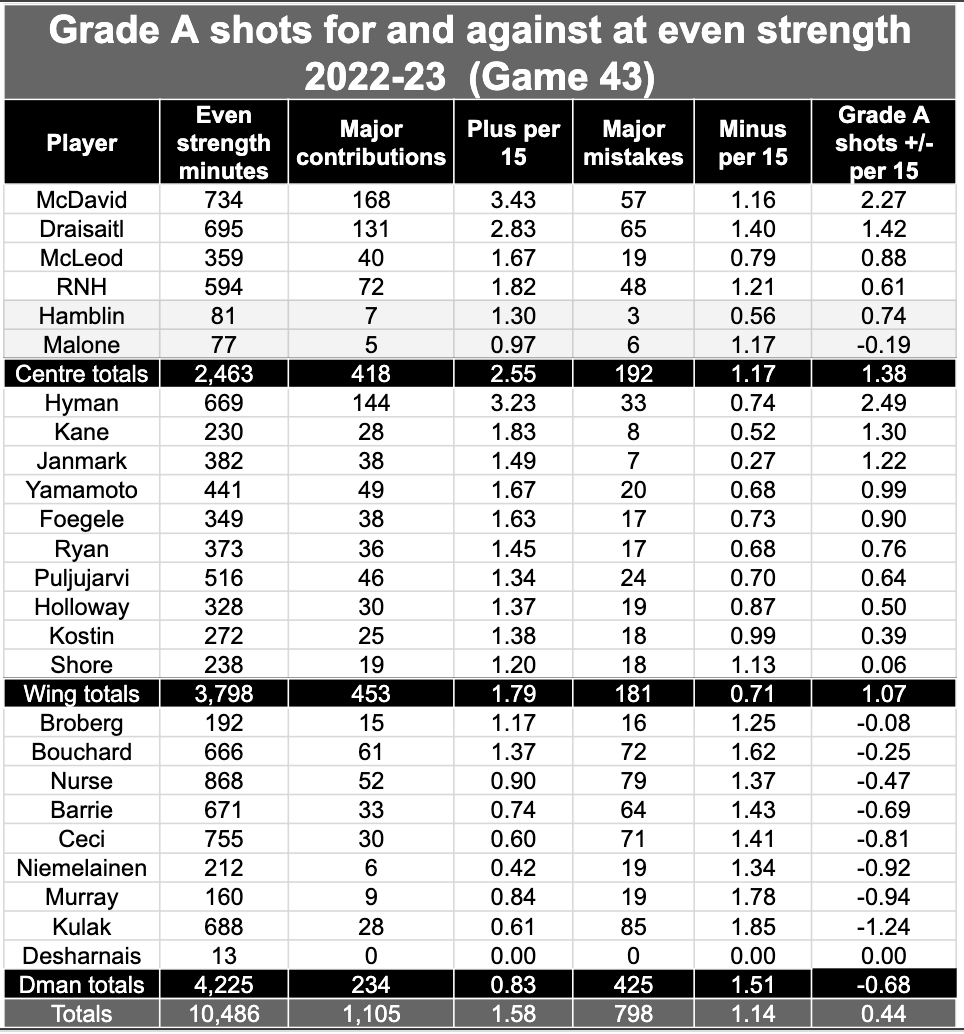 There's some talk of the Oilers moving out a player like a former first round pick Philip Broberg or Dylan Holloway in such a deal. The two players each had their best game of the year against the Anaheim Ducks.
Broberg has been steadily progressing this year, working his way through several injuries. He's now playing with confidence, both with the puck and in terms of his defensive fundamentals. With his superlative speed and agility, his long reach and good stick strength, he looks like he's evolving before our eyes into a shut-down d-man.
Is he ready to play in the Top 4 on the left side on a winning NHL team? That's another question. He's still just 21 years old and he's played just 40 NHL games. But I will note that when the Avs won the Stanley Cup last year, Bowen Byram was 20 years old and on their second-pairing. It's not the age of the player, it's his skill, poise and performance.
What are we seeing right before our eyes with Broberg right now? The second best left shot d-man on the Oilers. And he's only 21.
Why would you want to trade this player? And is the player you are bringing in return going to be better than Broberg in the playoffs, not to mention over the next five or six years?
I'm more tempted to bet on Broberg than risk moving him. I would find some other way to make a deal if you're convinced a more veteran Top 4 left shot d-man is essential to the team's playoff success.
Most fans and pundits will agree that the Oilers need more defensive consistency and aggression, and that the defence is a sore spot in this regard. But maybe the answer isn't on the left side but the right side.
Tyson Barrie and Evan Bouchard are both strong puck-moving d-men, while Cody Ceci is a sound two-way d-man. Barrie has had a strong year, while Bouchard has been inconsistent, brilliant at timing moves the puck but still prone to defensive errors, in particular when he gets in a downward slide.
Perhaps the answer is to move out one of Barrie or Bouchard in a trade and bring in another physical and defensive-minded shut-down right shot d-man. I'd keep Bouchard over Barrie myself every day of the week, even as I greatly admire Barrie's play this year and his defensive improvement over the past two seasons. But Bouchard is 23, Barrie, 31. Bouchard is already as good as Barrie at even strength and can likely do as well as Barrie on the power play.
Of course, if gigantic Vincent Desharnais steps up as a physical shut-down, right side defensive d-man, perhaps the best bet for the Oilers is to go with him in the third-pairing.
What should d-man pairings be?
Just now I'd like to see Nurse teamed up with Bouchard or Barrie, as his current partners Cody Ceci is struggling at Nurse's side, facing so many tough minutes.
I'd prefer Ceci with Broberg on a shut-down defensive pairing, and a third-pairing of Barrie and Kulak.
As for this dangerous moment, there's also talk of the Oilers trading away Dylan Holloway to get a necessary piece. Again, just as with Broberg, I don't see how this a good idea. Holloway could easily step up and help the Oilers this year in the playoffs.
If Edmonton needs to make a move, I'd much prefer them moving out draft picks or non-NHL roster players just now. Holloway and Broberg are now making an impact. We can see this right in front of our nose. I'd rather they make that impact in Edmonton than in some other NHL city.
Of course, it could be that neither of them will pan out. Maybe they'll get injured. Maybe they'll lose their confidence. Maybe they lack the knowledge of how to succeed as professionals. Maybe they'll fail to work hard enough to develop their skills. Maybe they'll never develop the consistency it takes to be an NHL ace.
But I see no reason to make a trade just because the clock is ticking on Connor McDavid and Leon Draisaitl's contracts in Edmonton.
As we all know, Holland needs to make the right moves, not any move. He needs to avoid the modern day equivalent of moving out Draisaitl for Subban or Strome for Spooner.
If a Holloway or a Broberg do move, it had better be for a proven NHL ace, not some veteran player who may or may not be better in the short run. If Holland can pull the trigger and bring in a top-pairing right shot d-man, for instance, that's when such a trade would make sense.
Otherwise I don't see moving out one of these two players just now. I think it would be a mistake. You?
P.S. By the way, I came across a leaked document from the NHL that may be of interest in Edmonton:
To: All NHL officials
Subject: The Cali Rules
Players on California-based teams in games within the state of California are allowed to trip Leon Draisaitl with impunity
They are also allowed to hold or hook Connor McDavid with impunity.
If they are also named Drew Doughty, they can trip, hold and hook any Oilers player with impunity.
Always ask yourself before making a call: "What do I say to Corey?"
Pushing Connor McDavid into the goalposts shall result in a minor penalty … to McDavid if he complains.
Sitting on the opposition goalie is allowed, especially in last seconds of a tie game.

Staples on politics
Trudeau out to thwart Alberta with National Energy Program 2.0 — and that makes good sense for him

At the Cult
McCURDY: Player grades in win over not-so-ducky Ducks
STAPLES: Are Oilers nearing the end of an era?